Find out more about LAM
Learn more about lymphangioleiomyomatosis. We give an overview of LAM, its symptoms and how it is diagnosed and treated.
Find out what help is available
As someone new to LAM, you have probably never known anyone with LAM or even heard of this rare disease. One of our primary aims is to provide support and information to those with LAM and their families.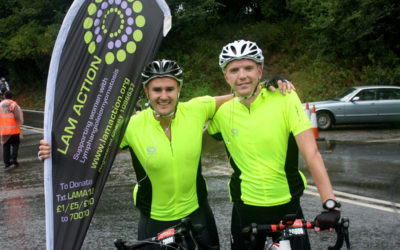 The world's biggest cycling event is happening once more -  on 29th May 2022.   This time the 100 mile route will head out from London to the leafy lanes of Essex before returning to finish in front of the iconic landmarks of the city. If you are interested or know of someone who would like to take part please complete the application form and...
read more
How can you help us?
LAM Action is entirely self-supporting and run almost entirely by volunteers. In this section you will learn about the many ways in which you can get involved.